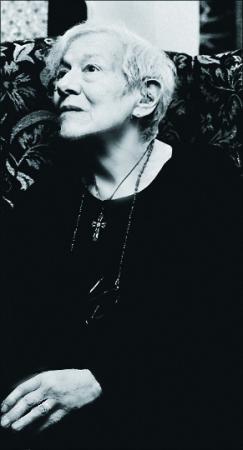 Lillian Delevoryas was born in Chicopee Falls, Massachusetts, USA. In 1970 she moved to England and has made this country her adopted home.
Her initial art training in the '50's was in New York, at Pratt Institute and the Cooper Union for the Advancement of Science and Art. After graduation, she travelled and studied extensively in Japan, France and Greece.

Now in her '70's, Lillian's repertoire covers a vast area, spanning over 50 years as an artist, which began in New York the 50s and 60s with large interiors with nudes.

When she came to London in 1970, her work shifted to appliqué wall hangings and appliqué garments for the world of show business. During this period she produced many wall hangings and tapestries for private individuals as well as churches and public spaces.

In 1972, she married the writer Robin Amis, and they moved to the Forest of Dean in Gloucestershire. This marked the beginning of her long and fruitful association with the English garden whose profusion of colour reinforced her already strong love of pattern. The watercolours produced during this period quickly translated into designs, and formed the basis of a tapestry needlepoint workshop which was formed in partnership with Kaffe Fassett. The work produced from Kaffe's and Lillian's designs and stitched into tapestries won many awards and were exhibited widely in such places as the V & A Queens Jubilee exhibition, as well as the Royal College of Art and 'Threads of History' at Courtauld House.

In the 80s, the floral watercolours spun off into further areas of applied design including a range of fabrics and wall paper for Designers Guild, ceramics for Habitat and Royal Doulton, and cards for Elgin Court.

In the 90s, she returned for a sojourn to her native Massachusetts, and during that period produced a series of landscapes inspired by the marshlands and tidal estuaries of the coastline.

From the 90s onwards she was influenced more and more by the icons of Greece and Russia and for several years, devoted herself to learning the techniques of iconography in order to penetrate its secrets as well as to sharpen her own technique in painting. This gradually led to a series of works which combined the iconesque image with images of the world.

With all this behind her, when asked what the next step would be, she replied "To review my past history as an artist and to draw from each period the most important aspects which can still feed my current work, and return to these subjects in order to perfect them. In a way, it's a kind of Proustian 'Remembrance of things past', where in memory, the event or subject is crystallized – stripped of everything but its essentials."
One is reminded of the words of Hokusai, the Japanese woodblock artist, towards the end of his life:
'From the age of five I have had a passion for sketching the form of things, from about the age of fifty I showed a number of drawings, yet of all I drew prior to my seventies there is truly nothing of any great note. When I was seventy-two I finally made out something of the shape of grasses and trees, the structure of birds and other animals, insects, fishes. Therefore when I become eighty I shall have made more progress; in my nineties I shall have penetrated even
further the hidden meaning of things; a the age of a hundred I shall have reached the divine mystery, and at one hundred and ten even dots and lines will surely possess a life of their own. I only beg those of you who will live long enough to verify the truth of my words.'

Hokusai ('Old man mad about painting')
EDUCATION
1950 – 1953 – Pratt Institute, Brooklyn, New York, Dept of Art and Design.
1953 – 1956 – The Cooper Union for the Advancement of Science and Art, New York City. Graduated with honours in 1956 (B.A degree in Fine and Graphic Arts)
1957 – 1958 – Studied woodblock printing and calligraphy in Tokyo and Kyoto, Japan, with T. Yoshida and T. Tokuriki (Zen Flesh, Zen Bones)
1959 – Studied and travelled in France, Germany, Switzerland
1982 – 1995 – Studied iconography and Byzantine mosaics in Greece.

AWARDS
Louis Comfort Tiffany Award in painting, New York 1965
New York Art Directors Association Gold Award 1977
ArtQuest Finalist, California 1986
Hunting Group, Mall Galleries, London, UK 1986
Greek Cultural Centre, Boston, Mass. 1990
Copley Society, Boston, Mass. Awarded Artist status. 1993
Art in Needlework Exhibition, Celanese House, London, 1973, 1974. First prizes in two categories (tapestry needlepoint and applique).
Between 1972 and 1979 – awarded several apprenticeship grants from the Arts Council (UK) for tapestry design and fibre art, and for establishing and maintaining the Weatherall Workshops for Tapestry Design in the Forest of Dean, Glos.

PUBLIC COMMISSIONS
Victoria and Albert Museum, UK (tapestry hanging commissioned for the Queen's Silver Jubilee Exhibition, 1977)
Our Lady of Ransome Church, Rayleigh, Essex, UK
International Atomic Energy Commission, Vienna, Austria
Sisters of Mercy Convent, Brentford, Essex, UK
Guildford Council Chambers, UK
National Gallery of Art, Victoria, Australia
Liberty's of London
Temple Newsham, Leeds
College of St. Mark and St. John, Plymouth
Exeter University, Exeter
EXHIBITIONS – ONE WOMAN SHOWS
1961 – 2000 USA
University of California School of Architecture, Berkeley, CA.
Robert Sabersky Gallery, Los Angeles
New York SIX Gallery
Robert Schoelkopf Gallery, New York
Royal Athena Gallery, New York
Drew University, Madison, NJ
Churchill Gallery, Newburyport, Mass.
Maliotis Cultural Center, Hellenic College, Brookline Mass.
Atlantic Gallery, New York

1972 – 2002 ENGLAND
Liberty's of London
Gloucester Museum and Art Gallery
Lincolnshire Arts Centre
Packhorse Gallery, Bath
Ernest Cook Gallery, Cirencester Workshops, Glos.
General Trading Company, London
Crispin Hall, Street, Somerset
Ebury Gallery, London
Yew Tree Gallery, Derbyshire
Stroud Festival,Glos.
Gallery 10, London
Copernican Connection, E. Yorkshire
Century Galleries, Henley-on-Thames
St. Giles Church, Oxford
Salisbury Cathedral, Salisbury, Wilts.
Penn Club, London
Parish of St. John with St. Andrew, London
Marian Study Centre, LSU, Southampton
Hellenic Centre, London
Art Garden Gallery, Bristol
College of St. Mark and St. John, Plymouth
University of Exeter


1979 – 1986 SCOTLAND, WALES, EUROPE
Edinburgh Festival, Scotland
The Gallery, Cardiff, Wales
Amerika-Haus, Munich, Germany
Kinsthandlung, Hanfstaengl, Munich, Germany
Designers Guild, Paris, France
Ina Boerse Gallery, Laren, Holland

EXHIBITIONS – GROUP SHOWS
UPCOMING
Paintings Inspired by Gregory of Nyssa's 'The Life of Moses'
Lillian's first book is published on November 26th 2015
You are warmly invited to attend the book launch:
November 26th, 6.30-8pm
Topping & Co, The Paragon, Bath, BA1 5LS
PAST
1960 – 2002 USA AND ELSEWHERE
San Francisco Museum of Art,
DeYoung Museum
California Palace of the Legion of Honor
New York University
Elaine Benson Gallery, Long Island, NY
Coach House Gallery, Channel Islands
Atlantic Gallery, New York, NY
The English Gallery, Peterborough, NH
Massachusetts College of Art, Boston, MA
San Francisco College of Art, California
The Copley Society, Boston, Mass.


1972 – 2002 ENGLAND AND ELSEWHERE
Revival of Art in Needlework, London
V & A Museum, Queen's Jubilee Exhibition
Royal College of Art, London
British Genius, London
Sudbury Hall, Derbyshire
British Crafts Centre, London
Design Centre, London
Rooksmore Gallery, Bath
Beaux Arts Gallery, Bath
Camden Art Centre, London
Royal Academy Summer Show
Fulham Gallery, London
Royal West of England Academy, Bristol
Print 86 The Barbican London
Mall Galleries, London
Royal Institute of Painters in Watercolour, London
Nina Zborowska Gallery, Painswick, Glos.
Fiery Beacon Gallery, Painswirk, Glos.
Coombe Farm Gallery, Devon
Galerie Paul Vallotton, Lausanne, Switzerland

TEACHING

Design Workshop, Elsa Williams School of Needleart, USA
Lecturer, Gloucester College of Art, Cheltenham, Glos. Gawthrope Hall, Burnley, Lancs, Drew University, Madison, NJ, Lansdown, Stroud College of Art, Glos, Field Study Centre, Slapton, Devon, Dartington Hall Programme, Dartington, Devon

Originated and administered a tapestry studio with Kaffe Fassett (Weatherall Workshops_ Forest of Dean, Gloucestershire, from 1972 to 1979, maintaining a staff of 3 – 6 apprentices and several outworkers.

ARTICLES AND PUBLICATIONS

US Art News, Arts Magazine, Who's Who in American Art.
UK. The Daily Telegraph, The Sunday Times, London Evening Standard, Vogue Magazine, Good Housekeeping Magazine, Vanity Fair, Brides, Illustrated London News, Crafts Magazine, Gloucestershire Life, Cotswold, Life, Arts, Review, Lonton Portrait, Greek Review, Who's Who in Art, International Design Yearbook, Sunday Express, The World of the Makers (Edward Lucie Smith), The Sign, The Quaker Journal, Resurgence Magazine